Curriculum
Year One
Embodied learning - in all areas of life - was the aim of Moshe Feldenkrais in his teaching.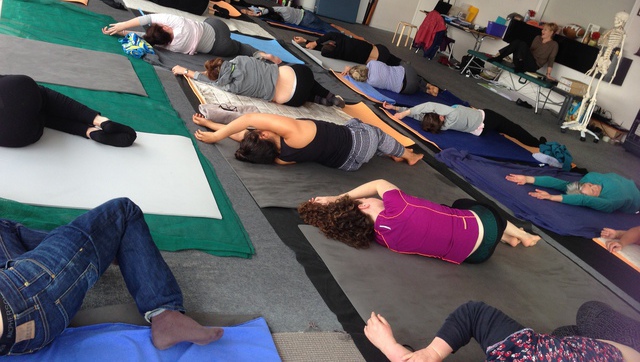 In the first year of this somatic education training programme, the emphasis will be on experiential and consequent theoretical understanding of the processes of movement in Dr. Feldenkrais 'Awareness Through Movement' ® (ATM) group class lessons.
This training will provide a framework for learning, utilizing his design for phenomenological and sensori-motor experiences.
Feldenkrais's book "Awareness Through Movement" will be a required text
for the first year.
In this year you will start to make distinctions in your own sensing while observing and sensing distinctions in others, learning about the fundamentals of sensation, perception and action while beginning to understand the structure of ATM.
Hands-on explorations will support developing abilities in Functional Integration® (FI) along with the foundations of internal and external observation and an appreciation of dynamic anatomy and the structures of movement.
Trainees will be asked to maintain a journal (confidential to the trainee) about their process in learning and in life. This will assist you to track your own process and develop a language about the Method.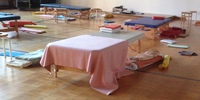 Enrolments are open for next programme 2018
Enquiries welcome now.


Year Two
In Year 2 the cultivation of your own learning in ATM continues, with elaboration and development of themes from the previous year. Relationships between your internal world and the external world will be brought forward.
In this year an emphasis will be learning to facilitate the embodied learning of others through the use of language and communication skills. This will be supported by developing your understanding of learning and motor control theories, important functional aspects of the nervous system, and analysing movement variations within ATMs and relating these to actions in daily life. As your self awareness develops, focus will shift to including self awareness while observing and sensing others, incorporating the ability to attend to yourself and your own organization while working sensitively and safely with others.
As you learn to become teachers of the Method, there will be emphasis on teaching skills – understanding and deconstructing ATM lessons, discussing learning strategies and the variety of structures within lessons including their suitability for particular target groups or topics of interest.
You will explore the fluid interface between ATMs and FI, learning how to address various themes both verbally and tactilely including: expanding sensori-motor awareness; honing vocal, observational and communication skills; understanding the dynamics of learning; developing delicacy and sensitivity in one's hands and self; self organization; and improving the ability to perceive patterns and relationships
Trainees will begin to explore orientation, movement sequences and the relationships of parts of the whole, while continuing to develop hands-on skills. Opportunities are given to explore with different people to enhance your appreciation of the range of human functioning. You will begin to refine your touch, following the responses and tendencies of a person, adapting to the needs of an individual whilst learning some technical strategies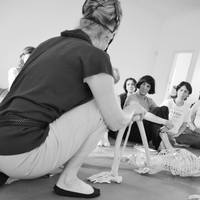 Greater emphasis will be placed on exploring skeletal relationships, looking at the movement possibilities of our skeleton, and developing skeletal contact when working with others.
Trainees will be encouraged and supported to begin teaching Awareness Through Movement® classes to the general public. Authorisation as a "student ATM teacher" follows successful completion of the ATM practicum and a minimum of 80 training days.
Year Three
In this year trainees will be deepening their capacity to facilitate embodied learning through FI lessons. This will be supported by the use of support and constraints, the primacy of self organization, different ways of describing movement observations and nonverbal communication. The ability to communicate will be developed further – melding touch and language in FI.
You will build on the experience of teaching ATM toward understanding that ATM and FI are two modalities that express the processes of the Method.
Communication skills will include interviewing clients and the ability to translate their requests into a learning situation.
Discussion, problem solving and practice activities will be developed from watching videos of Moshe Feldenkrais giving FI lessons.
As you explore teaching ATM outside the programme, more complex ATM lessons will be presented in class for questions, discussions and activities.
Year Four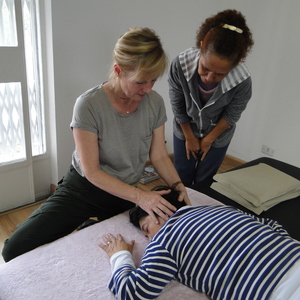 In Year 4 the emphasis will be on the professionalisation of skills – conducting FI, conducting ATM, creating a learning environment, employing self organization, acting ethically and professionally – the integration of learning to be competent as Feldenkrais® practitioners. Concepts will be revisited in more depth and the importance of lifelong learning emphasized, modelled and embedded.
Competency to compose an entire Functional Integration® lesson will be explored including; how to conduct an interview, create rapport, choose an appropriate movement /spatial configuration, develop a functional theme, engage the individual in the learning process through the lesson, attend to your own self organization during the lesson, know how and when to end a lesson, and learn ways to transfer the learning in space and context.
You will investigate how to create lessons around different themes, in different positions and orientations, and how to work with challenging situations while refining hands-on and technical skills.
Trainees will explore the theory and experience of giving a series of lessons. You will practice translating some of the typical presenting requests and issues into functional lessons and retranslating these to satisfy the expectations of the pupil.
You will continue to develop ATM teaching skills and explore more complex and challenging ATM lessons and series, while looking more deeply into how lessons are structured and refining your teaching skills. Language and communication skills will be addressed, not only in the teaching of ATM, but in being able to effectively and confidently talk about the Feldenkrais Method® in ways appropriate to different groups and contexts.
For further enquiries about the curriculum please contact the programme administrator admin@feldenkrais-training.nz